Shimano Calcutta resources:
(will open in new window)
The Facts: The Shimano Calcutta's have 1 piece forged-aluminum frames, Super Stopper anti-reverse, exclusive Shimano VBS centrifugal cast control, oversized Power Handle crank, and 3 ball bearings plus 1 roller bearing (CT200GTB has 7+1). The new B series feature A-RB bearings (anti rust bearings).
| | | | | |
| --- | --- | --- | --- | --- |
| Model No. | Bearings | Gear Ratios | Capacity | Weight |
| CT50B | 3BB + 1RB | 5.0:1 | 195/6 | 7.9 OZ |
| CT100B | 3BB + 1RB | 5.8:1 | 140/10 | 9 OZ |
| CT101B | 3BB + 1RB | 5.8:1 | 140/10 | 9 OZ |
| CT200B | 3BB + 1RB | 6.0:1 | 210/10 | 10.1 OZ |
| CT201B | 3BB + 1RB | 6.0:1 | 210/10 | 10.1 OZ |
| CT200GTB | 7BB + 1RB | 6.0:1 | 190/10 | 9.9 OZ |
| CT400B | 3BB + 1RB | 5.0:1 | 260/14 | 11.7 OZ |
| CT400BSV | 3BB + 1RB | 5.0:1 | 260/14 | 11.9 OZ |
| CT700B | 3BB + 1RB | 4.7:1 | 310/20 | 18.2 OZ |
| CT700BSV | 3BB + 1RB | 4.7:1 | 310/20 | 19.2 OZ |

Still The best, 2013-11-22
Reviewer: Dr. P
I have given up on spinning reels for big fish. The calcutta is still one of the best reels even with all these other reels available out there. I do like my avets because they are american made and very durable, but when I wanna have fun with a big fish, I bring out this reel on a custom rod.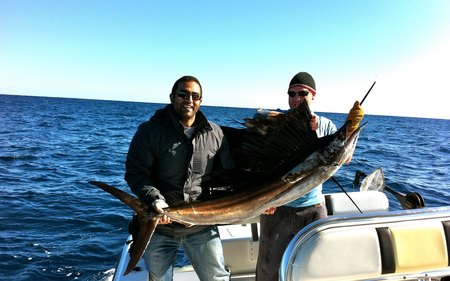 Shimano Calcutta 200 GTB, 2005-03-28
Reviewer: Willie Kim
Forgot to mention...when the drag is all the way cranked, when pulling slowly the drag only registers about 5-6 lbs. on the scale, but if you have some pretend to pull like a fish on the run, the drag increases to the 10 lbs. This is far more drag than you need because this reel is really much made to hold only 8-12 lb line and the max drag you want on 12 lbs line is about 4 lbs. perfect for calico, sand bass, bonito, etc.
the drag is very smooth. no jerky feeling what so ever. great real that casts great and is very smooth. I live in southern california and mainly fish for calico bass, sand bass, bonito, and barracuda. This is a great reel to use when targeting these species.
If you want something that holds more line and has a stronger drag i suggest the calcutta 400. i have a calcutta 400s with the extended handle i was using before i bought this reel. the calcutta 400s has a smooth drag and reels in these fish with no problems.
I also have a daiwa millionaire cv-x 203. this reel holds about 190 yards of 12lb line. this reel also has a smooth drag and casts great. I think my calcutta 200 GTB actually casts farther.
The 200 GTB seems to have more power over the millionaire when reeling in the fish. The millionaire cv-x is a great reel. I was able to pull a 30 lb thresher in on the millionaire using 12 lb test and a wire leader on a twilight trip from dana point. we were fishing for cuda and i caught this on accident. The drag was smooth til the end when it finally gave out.
the gears stayed in place and i have had no problems with this reel.
But the calcutta 200 gtb definately feels like it has more power because bringing in the cuda and bonito's on the 200 GTB was easier than using the CVX.


Shimano Calcutta 200 GTB, 2005-03-26
Reviewer: Willie Kim
Bought this reel yesterday 03/26/05.
The reel looks and feels great. Took this fishing today 03/27/05.
Ended up using it with 12lb P-line catching calico bass, bonito and barracuda at Catalina Island, California.
The drag is very smooooth. At first when i brought the reel home, i tested the drag using a scale, i could only get it to pull 4-5 lbs. It is suppose to pull 11 lbs. max. After some pulls and usage on the reel, the drag started working and the 10 + lbs. of drag was there.
The reel casts jigs, plastics, live bait with no problems. You can easily launch your bait or plastics very far. It throws small Kroc's extremely far.
The reel is pretty powerful for its size. I had no problems bringing in the 5 lbs. Bonito's and the barracuda.
Although the bonito's were small, they gave a good fight.
If you plan to use this reel for bass fishing, i highly recommend it. I've been using the calcutta 400s as my calico/sand bass reel but i decided to go with this smaller reel instead. Its smooth, casts great, and shimano makes durable and reliable reels. I highly recommend this reel for any angler.
The reel holds about 113 yards of 12 lbs. p-line.
Paid $220 and it was well worth it.


Money for name-brand average quality, 2005-02-23
Reviewer: James - Gyozadude- Liu
If you fish tuna boats and use light tackle, this has got to be the trendiest reel out there. Backed by a great Shimano warranty and Shimano service, this designer reel targets folks who like to let others know they spent the money for some expensive gear.

But nothing about the reel itself is superior to anything else except perhaps more use of real metal parts rather than plastic.

I own a Calcutta 400 and in personal use, the casting is so-so compared to the Abu C3 that is just 1/3rd the price. The drag is about the same and even less smooth than a Cabela's MRP200 which is why Shimano sells drag grease, even after a Dartanium drag upgrade. Lastly, its casting thumbar jams just like other reels in Shimano's line up unless one cleans the tracks and lubes the free-spool release mechanism. And the CT-400's bait clicker is not convenient or strong for bait fishing.

But for $50 - $80/year one can get this annually maintained at a lot of shops. One can also send it in for blue-printing at $100+ or so (i.e. professionally re-assembled by someone with a reputation for correctness).

And if the reel fails, yes, send it to Shimano and for the cost of one-way postage, Shimano will fix or replace that reel with a smile.

To be honest, the Calcutta does stand up. It works well and can haul in good fish. It gets a bit looser over time and isn't as tight as it was when new, but I think it actually casts better. And it's durable as long as one maintains it like all tackle.

But, like other machined aluminum reels, it gets scratched easily. And at a Shimano-fixed $200 for the CT-400, the overall price-perf ranks pretty low on my scale of reels when after a year of rough use, the reel really looks worn out.

Overall, if the Calcutta's were half their price, I would rank them a 4 or 5 stars. But they cost too much and don't perform the best-in-breed as one would expect at this super-high price.

i love this reel, 2005-02-18
Reviewer: Arvin Reyes
i own both the CT400 and the CT400S (non levelwind)

good:
very smooth operation despite only having two ball bearings. casts very far even though it has a non disengaging levelwind. many available upgrades. time tested quality and dependability.

bad:
price. retailing at $200 its a little steep, and a big jump from its closest sibling. but in this case i can say that you get what you pay for. could use a clicker on the drag star, but not a necessity. bait clicker is pretty much worthless unless you're soaking bait in a lake or pond with no current for catfish.

comments:
this little reel thinks its bigger than it actually is. and no matter how much i tell it otherwise, it just wont believe that it is a great 15lb reel, and wants you to put 20lb line on it and go after yellowtail! for as long as i've been fishing this reel has always been the reel that was looked at as the ultimate inshore round baitcaster. the dartanium drags are incredible. and the fact that it only has two ball bearings is just hard to believe. but i also see that as a good thing because it remains a super smooth reel all around, but you only have to worry about two BB's ever getting corroded. now, with the newer models, they have included the AR-B bearings which basically alleviates this problem. also looking forward to seeing the new calcutta B series, which will cost a bit more, but have some great additional features to the older models.